While it remains high in the U.S., results of a recent survey suggests that potentially burnout is trending downward. Rates of burnout soared during the early days of the pandemic but appear to be easing ever so slightly. Nearly half (46%) of employees still report that they are burnt out at their jobs. This is down slightly from last year (49% in August 2022) and down significantly since the beginning of the pandemic (58% in August 2020)
The findings were collected for the 2023 Eagle Hill Consulting Workforce Burnout Survey in February 2023 by Ipsos. The survey contained a random sample of 1,000 U.S. workers.
Workload was cited as the top source of burnout (52%), followed by staffing shortages (44%), balancing work and personal life (41%), lack of communication and support (39%), and time pressures (38%). When asked how staff shortages are affecting them, 82% of workers said it's covering the workload for un-filled positions, 37% said it's helping others learn their job, 39% said it's training new hires, and 28% said it's recruiting and interviewing new hires.
The good news is that employees are open to discussing burnout with their managers or employers. Survey respondents also say there are ways to reduce burnout. Seventy-two percent of workers surveyed said a four-day workweek would help, while 69% wanted more flexibility. Other solutions included decreased workload, access to better health and wellness programs, remote work options, and more amenities at the office, the research found.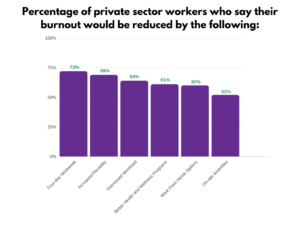 "While worker stress levels are trending downward, employers should not be complacent in addressing employee burnout," said Melissa Jezior, president and chief executive officer of Eagle Hill Consulting, in a press release. "Still, nearly half of the workforce reports burnout, and that is far too high for organizations that seek optimal performance and retention of their top talent. When employees are tired and stressed, you can bet they'll either underperform or look for another job."
"It's critically important for employers to dig in to understand exactly what is causing burnout among their workers to properly diagnose and address the problem. Our research shows that workers are comfortable talking about burnout, and those conversations are essential," Jezior also said.