The National Institute for Occupational Safety and Health's recent research revealed occupations with the highest COVID-19 positivity rates early in the pandemic. Workplaces have been recognized as potential exposure points since the beginning of the pandemic. Work-related differences would clearly be a variable in the rate of transmission.
NIOSH researchers examined the results of a nationwide survey with data collected from September 8th to November 30th, 2020, by the Delphi Group at Carnegie Mellon University. Nearly 3 million US-based Facebook users were asked to respond to questions about COVID positivity while working outside the home during the previous four weeks. Participants in the survey responded to questions regarding age, gender, pre-existing medical conditions, self-reported testing and results, work status, and occupation.
In the survey, 15 major occupational groups were listed as choice for respondents as well as an "other" group. If "other" was selected, respondents were asked to select the group that best fit their occupation. Eight other sectors were listed as potential choices for other. Out of 23 major occupational groups, the results found that five sectors experienced the greatest amount of COVID-19 cases. These include "Production", "Building and grounds cleaning and maintenance," "Construction and extraction," "Healthcare support," and "Food preparation and serving". Many of these occupations require working in close proximity to others. This could have lead them to be the occupations with the highest COVID-19 positivity rates.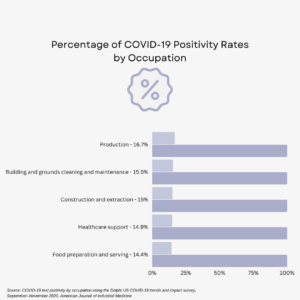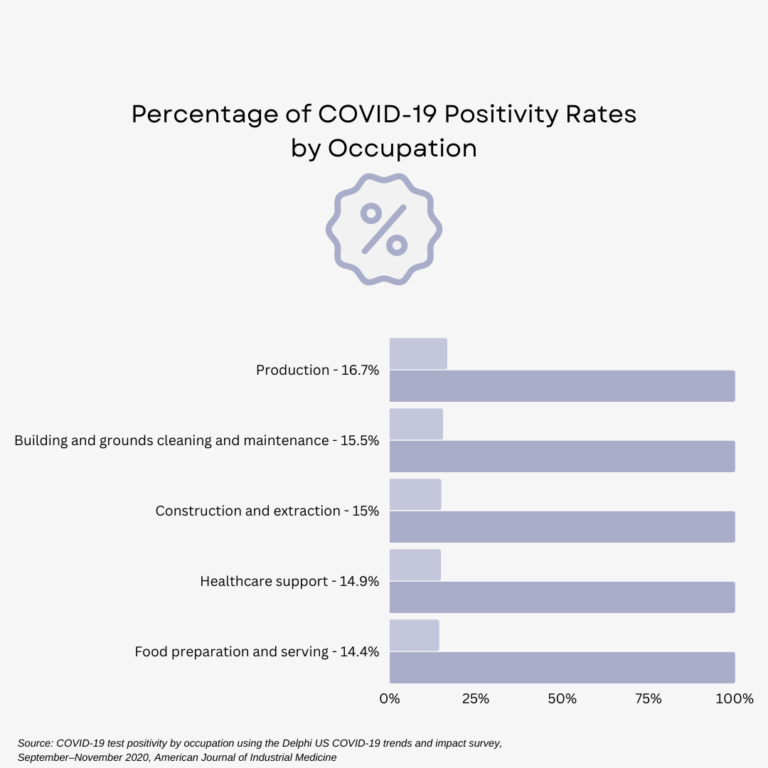 The researchers of the study commented on its limitations stating, "even after weighting the data, the respondents may not have represented the general US population […] Participation bias might lead to inaccurate population estimates, but such bias might have less effect when making comparison among different subgroups of survey respondents. Second, using test positivity cannot be interpreted as population prevalence. Respondents not reporting being tested may have not been infected or been infected and not tested. Furthermore, workers in different occupations may have had different access to testing over time."
The study was not influenced by differences in vaccination rates by sector as the survey was conducted prior to the wide availability of vaccines. However, these results can be used as a potential baseline to compare how effective mitigation strategies have been in certain sectors.