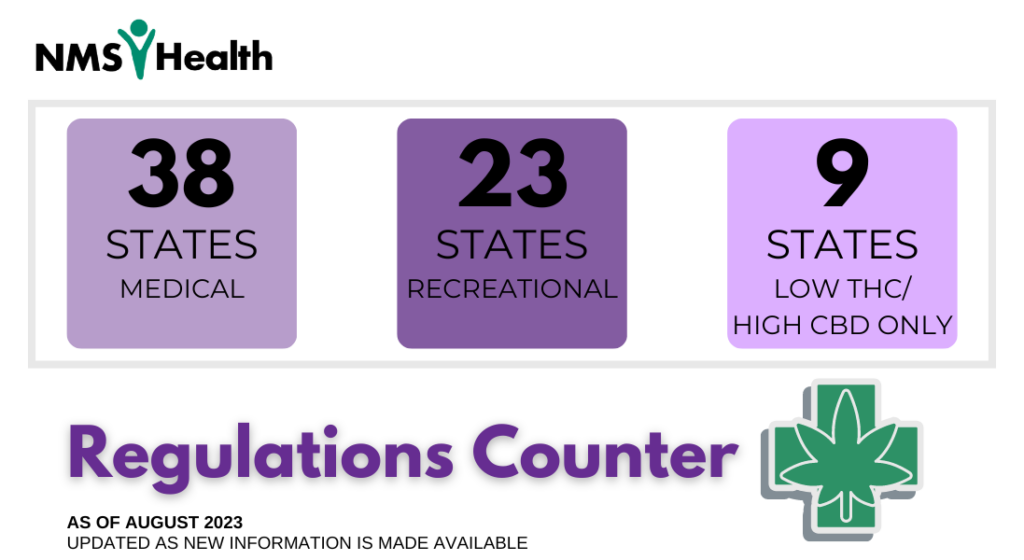 Information updated as of 11/03/2023
Medical and adult recreational marijuana use is becoming more and more socially accepted and states are legalizing it at a frenzied pace. However, at the federal level, marijuana is still listed as a Schedule I drug under the Controlled Substances Act meaning that it is considered to have no currently accepted medical use and a high potential for abuse.
While marijuana is federally illegal in the United States, the Department of Justice has typically chosen not to go after those who possess and distribute marijuana in compliance with state laws. Due to this, marijuana regulations operate in two separate spaces. It is legal and illegal at the same time. This divide in regulations makes workplace drug testing an ever changing, and oftentimes confusing, situation. Explore our comprehensive marijuana testing guide for further insights.
Past and current state of marijuana testing
In 2020 alone, marijuana positivity rates increased 16.1% to a 3.6% overall positivity rate. This is the highest rate since testing data began being collected. Since 2010, recreational use only states have seen a 128.6% increase in positivity rates and in medical use only states, the positivity rate increased 68%. In non-recreational and non-medicinal states there has been a 50% increase as well. This signifies a growing trend of an increase in marijuana usage and a rate that is following relatively the same trajectory.
Overall positivity rates in drug testing are being driven by marijuana usage. The national average has risen 44.0% Based on an annual volume of 50,000 drug tests, nine industries have been found to have had year over year increases in marijuana positivity rates.
Transportation and Warehousing: 123.5% increase
Finance and Insurance: 116.5% increase
Accommodation and Food Services: 96.9% increase
Wholesale Trade: 90.0% increase
Retail Trade: 72.4% increase
Manufacturing: 71.4% increase
Administration, Waste and Remediation Services: 56.5% increase
Real Estate, Rental and Leasing: 53.8% increase
When deciding on a drug testing policy for your employees, there are two main considerations: what is required by law and what kind of employer do we want to be?
What is required by law?
First and foremost, employers should be familiar with the laws in their state. All but three states have state regulated cannabis programs in some capacity. Kansas (not pictured below) does not regulate the production or sale of low-CBD products. Residents however, may use possession of low-THC product from another state for a medical reason as as "affirmable defense to prosecution." In April 2023, Delaware became the 38th state to officially legalize medical marijuana.
There are some places where it has been completely decriminalized, other places allow only medical use, and some cities, such as New York City, Atlanta, Baltimore and Philadelphia, have put rules in place that forbid marijuana testing during the pre-employment process. New York State recently ruled that employers are prohibited from discriminating against employees who lawfully use cannabis outside of work.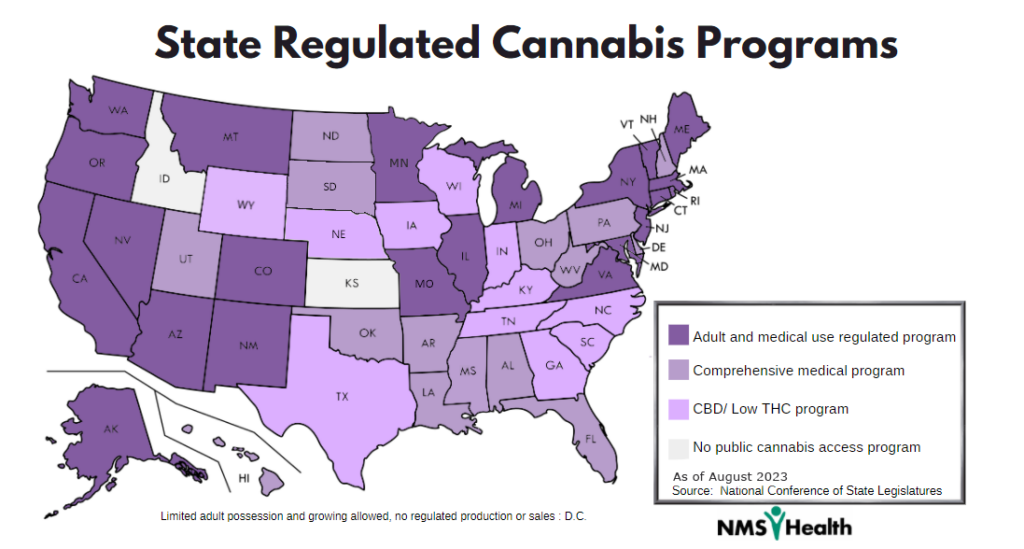 Comprehensive medical
States with comprehensive medical marijuana laws allow the use of marijuana for individuals who have been examined by a medical provider. The medical provider must ensure that the individual has a condition in which marijuana is an effective treatment. Employees who are using marijuana medically must obtain a state-issued medical marijuana card, which needs to be renewed annually and obtain cannabis from a regulated dispensary.
Adult recreational
Generally speaking, if a state has recreational laws, it also has medical laws. In states where recreational use is permitted, individuals can obtain cannabis if they are of age to purchase it.
CBD
17 states have laws regarding Cannabidiol (CBD) and Low THC products. CBD is an active compound found in the cannabis plant, which does not have the same psychoactive properties as THC but is derived from the marijuana plant.
By law CBD products can contain up to 0.3% THC. While CBD is a chemical component of cannabis, 100% pure CBD will not be confused with THC or it's metabolites on a drug screen. The production CBD/Low THC products, however, is not federally monitored, and based on some statistics as many as 84% of CBD products are mislabeled. If the product has residual THC present, it will be metabolized and could present as a positive result based on dosage and usage.
For those who have a national workforce, things can be trickier. Meeting state-specific obligations becomes a challenge. Consistency in treatment is vital across your staff. Equitable treatment and accommodation must apply to every employee, regardless of their location.
Employment protections
State by state regulations must be carefully studied to determine if there are any employment protections made available under specific state laws. Employment protections can vary state by state and differ depending on medical or recreational use.
Currently, 20 states have documented language in their regulations to provide employment protections for medical marijuana use, 15 states explicitly have no employee protections, and 7 states have regulations and case law which are silent regarding the need to accommodate. In the case of states with unclear protections it then becomes the burden of the employer to weigh the risk of legal action versus the risk of employment.
In the case of recreational marijuana, 7 states currently have explicit employment protections - Nevada, California, Connecticut, Montana, New Jersey, New York, and Rhode Island. 4 states may provide employment protections for off-duty use only. 11 states have made statements in the past that no protections exist for employees who use marijuana recreationally. California and will join the list of states that provide employment protections on January 1, 2024 when their new laws go into effect.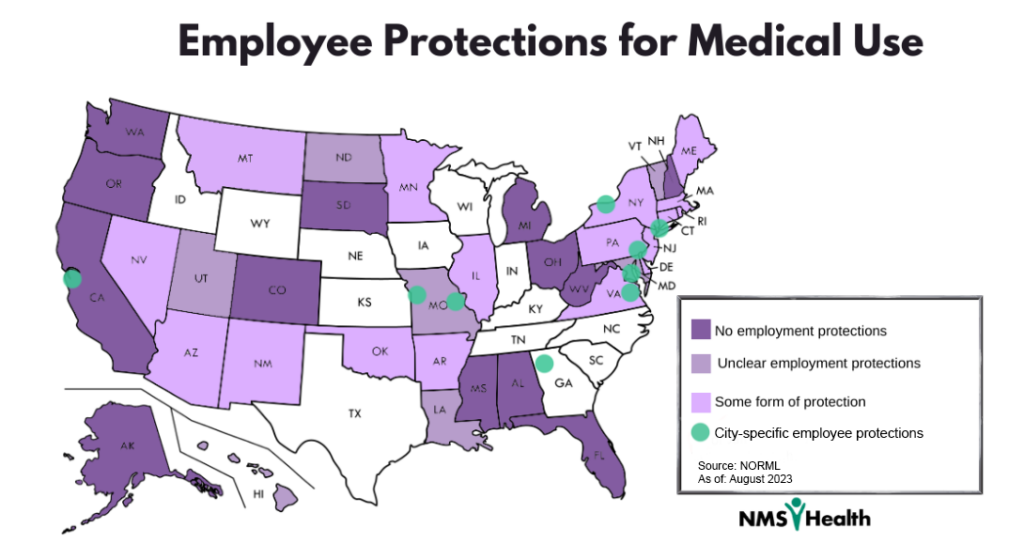 Recreational marijuana protections: state by state
California:
Beginning January 1, 2024, California's new marijuana law will go into effect. This law prohibits employers from discriminating against employees for legal off-duty marijuana use, whether medicinal or recreational. Additionally, employers cannot terminate or discipline employees based on positive THC drug test results. However, on-the-job impairment remains a valid reason for discipline or termination.
Connecticut:
In Connecticut, employers are barred from rejecting applicants solely due to a positive marijuana test result. Furthermore, employers cannot take adverse action against employees for legal off-duty marijuana use, unless by not doing so it would breach federal contracts or funding agreements.
Illinois:
Illinois boasts the most comprehensive employment laws concerning recreational marijuana. The Right to Privacy in the Workplace Act prevents employers from refusing to hire, terminate, or discipline individuals for lawful off-duty product use, including marijuana.
The Illinois Cannabis Act provides further employer rights, allowing them to prohibit on-the-job intoxication, conduct reasonable drug testing, and discipline policy violators.
Employers must have a good-faith belief in employee impairment, showing specific, articulable symptoms that are effecting their performance, and those disciplined for marijuana-related impairment deserve a chance to contest the determination.
Montana:
Montana offers nondiscrimination protection related to recreational marijuana. Employers cannot take adverse action against employees for off-duty use unless it impacts job performance or co-workers' safety. Exceptions apply to specific cases, such as professional service contracts or nonprofit employers whose primary purpose discourages public marijuana use.
Nevada:
Nevada presents a unique scenario where state law doesn't protect off-duty marijuana use due to its federal illegality. Employers, however, cannot reject applicants for positive marijuana tests, except in specific cases like safety-sensitive positions.
New Jersey:
New Jersey offers employment protections for off-duty marijuana use. Employers can't refuse to hire applicants due to positive tests or discharge employees unless impairment at work can be proven.
New York State:
Employers in New York State can't discriminate against applicants or employees for legal off-duty marijuana use. Employees cannot be fired for recreational marijuana use outside of work. Adverse action is permissible if required by state or federal law, if impairment occurs on the job, or if not taking action would result in the loss of federal contracts or funding.
Rhode Island:
Rhode Island, much like it's neighbor Connecticut, cannot refuse to employ an applicant based solely on positive test result for marijuana. Their law prohibits discrimination against off-duty marijuana use. Exceptions exist for use being prohibited due to collective-bargaining agreements, employees who work hazardous jobs or those essential to public welfare and safety, and if failing to do so would result in loss federal contracts and funding.
Virginia:
Virginia's law prohibits requiring disclosure of arrest, criminal charges, or conviction of simple marijuana possession information during the hiring process. This includes any application for hire.
Washington:
Starting January 1, 2024, Washington's new law prevents discrimination based on lawful off-duty recreational marijuana use. Refusing to hire based on positive non-psychoactive cannabis metabolite tests is not allowed, with exceptions for federal contracts, funding, licensing, and safety-sensitive positions.
Washington, D.C.:
Employers in Washington, D.C., can't refuse to hire or take adverse action against employees for recreational or medical marijuana use or failing a marijuana drug test.
Understandably, there are no employment protections available for those in safety designated positions in any state.
Safety sensitive positions
Safety sensitive and safety designated positions are not synonymous. Safety designated are positions such as those within the Department of Transportation which are held to a federal standard. DOT drivers must participate in drug screening, including screening for THC. Medical marijuana exemptions are not accepted by the DOT.
Safety sensitive is not an industry term, it is a defined term. Employers should not assume what safety sensitivity means in regard to state regulations. Only a few jurisdictions have defined the term safety-sensitive, so it is best practice to review any regulations in the states in which you operate.
Some examples of safety sensitive positions are: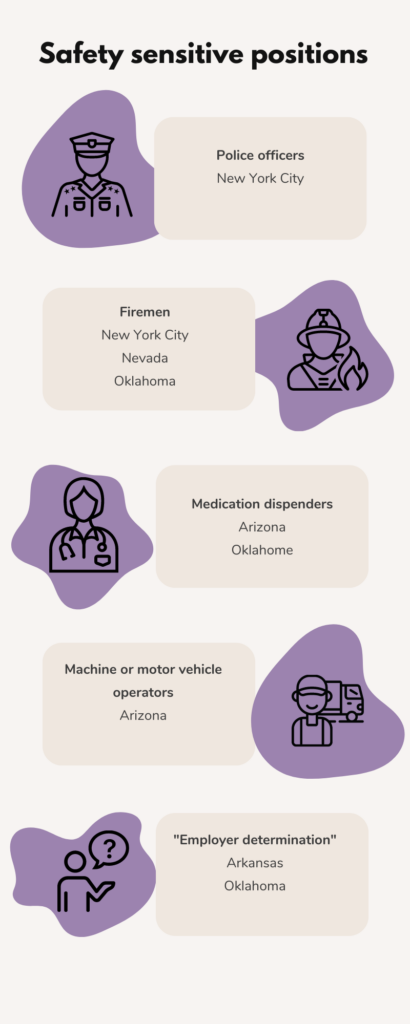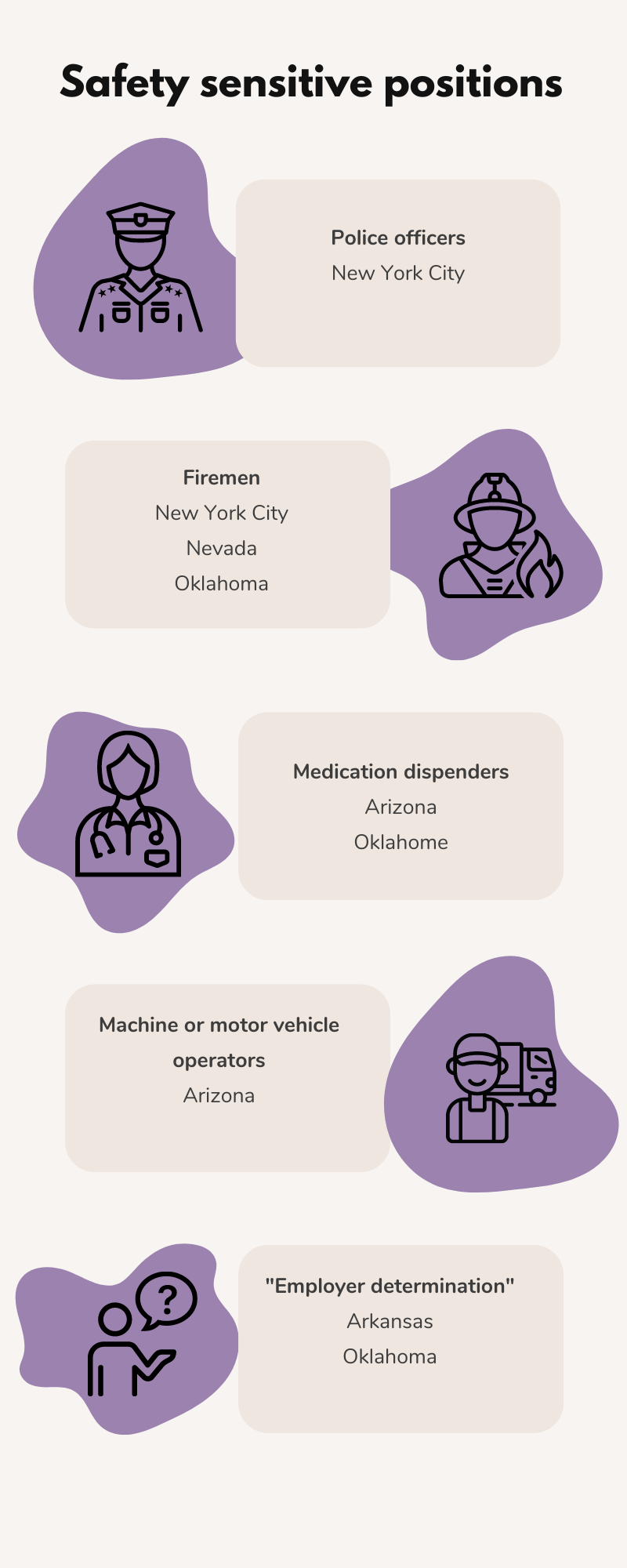 Testing
In the current economic environment, many employers outside of safety-sensitive industries are taking marijuana out of their drug-screening protocols. By refusing to hire those who test positive, it could create potential staffing problems particularly in areas where cannabis has been decriminalized.
Recently Amazon, the second largest private employer in the country, announced that it would no longer be testing employees for marijuana for those in positions that are not regulated by the U.S. Department of Transportation. The company said it would treat marijuana use the same as alcohol use.
According to Quest Diagnostics, employers' general workforce testing between 2015-2020 showed a decrease in THC inclusion panel ordering for non-recreational/medical by 3.4%. THC inclusion panels in medical marijuana regulated states declined 4.2% and THC inclusion panels for recreational states declined 8.5%. Recent data also shows that from March to December 2021, the percentage of tests conducted where THC was removed from the panel almost doubled! In March 2021, 6.31% of the testing volume were tests without THC, whereas in December 2021, it was 11.01%. With large standing companies committing to reforming their drug testing policies, this may be a sign of trends to come.
As part of the pre-employment process, drug screening can currently continue without testing for marijuana. Some common urine test panels are:
4-Panel - No THC: Amphetamines, Cocaine, Opioids, Phencyclidine
7-Panel - No THC: Amphetamines, Barbiturates Standard, Benzodiazepines, Cocaine, Opiates, Oxycodone/Oxymorphone, Phencyclidine
10-Panel - No THC: Amphetamines, Barbiturates, Benzodiazepine, Cocaine, Methaqualone, Opiates, 6-Acetylmorphine, Phencyclidine, Methadone, Propoxyphene
The marijuana testing guide to impairment
There is not a legal or scientifically agreed upon definition for impairment and as such, there is no standard workplace drug test to provide insight as to whether or not an employee is impaired. However, "under the influence" is a policy term which can be included within your own company's handbook. Your handbook can use signs and symptoms of marijuana use, certain behaviors, as well as positive drug test results as "proof of under the influence" as long as it abides by the state regulations in which you operate.
You can also decide to not test for marijuana metabolites during drug screenings. If you do forgo testing for marijuana and accommodate employee's use of cannabis outside of work, it should be made clear that impairment at work will not be tolerated. Much like alcohol use, employees are expected to come to work sober.
Companies can test for alcohol after an incident, but that does not work as well with marijuana usage. There is no standard limit recognized as the intoxication limit for THC. It can take a minimum of a few hours for metabolites to become present in the employee's system. Additionally, marijuana's longevity in the employee system is variable - it depends on their metabolization, if they are a frequent or infrequent user, etc.
The marijuana testing guide to post-accident statistics
According to Quest's general workforce data, between 2012 and 2020 post accident positivity rates jumped 166.7%. While correlation does not necessarily mean causation, the data is quite concerning. Testing employees' post-accident is legal in all states, but laws of each state must be met. If you have employees in multiple states, you must comply with all of them.
According to the National Safety Council, the industries with the largest number of workplace injuries are:
Service (including police and firefighters)
Transportation/Shipping
Manufacturing/Production
Installation, maintenance, and repair
Construction
Typically, after an accident, an employee will be sent for a post-accident screening. If you have DOT employees, it must follow the federally mandated guidelines. For example, the employee who tested positive in their post-accident test must be removed from any safety sensitive duties. Depending on the circumstances, they will then be evaluated by a substance abuse professional. If they're not terminated, they're going to go through some type of a treatment program. Once the substance abuse program has been completed, they can then undergo a return to duty drug screen. For those general workforce employees, a similar policy can also be put in place, as long as it aligns with the regulations of the states you operate in.
It is also important to create an environment in which employees are not afraid of retaliation at work and will come forward to report accidents. Your policy needs to reflect that if an employee is involved in a post-accident drug screen, that there are options available to them beyond punishment or termination based on the findings of the accident and that they may have the opportunity to discuss what led to the accident.
What kind of employer do you want to be?
Different industries may answer this question differently. Those who run a manufacturing company may approach the situation much differently than a company whose employees work in cubicles all day. Additionally, some sectors have employees who must abide by federal regulations that mandate marijuana testing. Workers such as those in the Department of Transportation must be screened for drug and alcohol use. Even in the case that a DOT or Federal Worker is eligible for medical marijuana in their state, it is NOT considered a medical exemption for their position.
What does NMS recommend
Create a comprehensive drug policy that is enforced unilaterally across your company.
Create policies with local law and industry in mind.
Be clear and transparent about these policies with all applicants and employees.
Be clear and transparent about what the consequences are for testing positive.
Start thinking of marijuana in the workplace as you think of alcohol.
Focus on prohibiting use, possession and impairment in the workplace.
Focus on safety and testing when there's a reasonable suspicion of workplace impairment.
Ready to take proactive steps for a safer and more compliant workplace? NMS Health is your ally in creating a customized, all-encompassing drug testing policy that aligns with your industry and local mandates. Get started today and discover how we can simplify your approach!
Source Material
[1] https://www.shrm.org/resourcesandtools/legal-and-compliance/state-and-local-updates/pages/marijuana-and-the-workplace-2021.aspx
[2] https://www.natlawreview.com/article/marijuana-laws-affecting-workplace-tools-employers-can-use-to-stay-ahead-during-high
[3] https://www.nationaldrugscreening.com/blogs/marijuana-and-employer-concerns-update-may-1-2021/
[4] https://www.longislandpress.com/2021/05/11/what-pot-legalization-will-mean-for-the-workplace/
[5] https://www.hrdive.com/news/why-amazons-updated-marijuana-drug-testing-policy-could-have-ripple-effec/603492/
[6] HireRight Webinar
[7] Quest Webinar