Oral fluid testing, also known as a saliva drug test or swab drug test, is gaining in popularity. More and more often employers are incorporating oral fluid testing into their drug testing programs. Prior to the pandemic, oral fluid testing represented about 8% of workplace drug testing. According to a 2020 end-of-the-year survey conducted by Current Consulting group, that percentage had increased to 15%.
Additionally, when publishing federal guidelines for oral fluid testing in 2019, Substance Abuse and Mental Health Services Administration (SAMHSA) projected that oral fluid testing would account for 25% – 30% of federal agency drug testing within 4 years. The Department of Transportation has also recently published an updated rule which now includes the option to do oral fluid testing for safety-sensitive positions.
What is oral fluid?
With a simple and non-invasive process, a specialized swab collects a sample of oral fluid from the inside of the cheek. But what is it? Many people tend to think oral fluid is synonymous with saliva, but it is actually comprised of multiple components. In addition to saliva, oral fluid contains cellular debris, gingival crevicular fluid, oral mucosal transudate, and microorganisms. Drugs are able to be detected in oral fluid due to the passive diffusion from blood though the cheeks and gums to the oral cavity. Because of this, oral fluid contains the same components present during a blood test and is a serum analogue. However, unlike urine drug testing, oral fluid testing detects the presence of the actual drug in the user's system instead of the metabolites that are produced as the body breaks down the substance.
A closer look at the collection process
Historically, there have been instances where employees have been unable to pass enough urine to be tested in a urine drug screen. Other employees, meanwhile, may not have enough hair to be collected during a hair drug screen. Oral fluid testing makes specimen collection easy. During the testing, the employee will self-swab to collect a sample. Unlike urine drug testing, the collector's role is much more passive. The primary role of the collector during an oral fluid drug test is to establish a chain of custody. It is the responsibility of the collector to confirm the employee's information, observe the collection, and document that their specimen is theirs.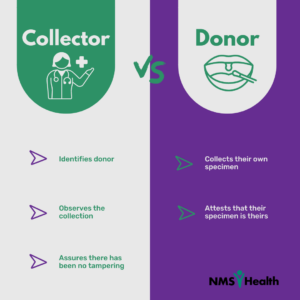 When collected at a clinic or local laboratory, the collector transfers the specimen into the transport tube with a buffer for shipment to a laboratory for processing. The buffer lasts at least 14 days without affecting the validity of the specimen. Once at the processing lab, the specimen will undergo specimen validity testing and initial testing. The initial screening process does not measure specific amounts of drugs in the specimen but provides either a negative or presumptive positive result. This is done through immunoassay testing, similar to urine drug screening. If a specimen is non-negative, two confirmatory tests are then initiated.
Because of the simplicity of collection, oral fluid testing can be done both in a clinical setting and onsite at work. In point of collection testing, POCT devices allow a rapid immunoassay test to be completed onsite. If the initial test is non-negative, then the specimen needs to be mailed out to a laboratory to undergo two confirmatory tests.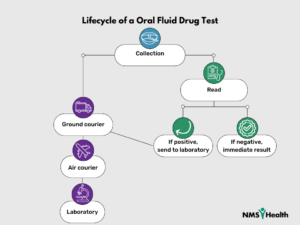 What can oral fluid tests detect?
The substances an oral fluid drug test can detect depend on panel of testing ordered. While the oral fluid test can capture many substances, urine drug screens still have the broadest test options. Oral fluid can be used to test for any one of these substances individually or in a combination when using a multi-panel drug test. Some test options include:
Amphetamine/methamphetamine
Barbiturates
Benzodiazepines
Buprenorphine
Cannabinoids (THC)
Cocaine
Ethyl alcohol
Fentanyl
Methadone
Opiates (expanded menu)
Oxycodone
Phencyclidine (PCP)
Propoxyphene
The advantages of oral fluid testing
Oral fluid testing offers a range of benefits when it comes to screening for drug use in the workplace. Firstly, it is convenient and efficient. Collecting an oral fluid sample is quick and straightforward, reducing the time required for testing while ensuring rapid results. A quick result turnaround time is essential for employers, who need to quickly identify potential substance abuse among their workforce.
Secondly, oral fluid testing is non-invasive and user-friendly for employees. It eliminates the need for urine collection, which can be awkward and intrusive. The collection process is so discreet that it can be easily performed onsite. The simplicity of collecting oral fluid samples promotes a positive testing experience for employees, maintaining their dignity and privacy. Additionally, because oral fluid testing does not have to be conducted behind closed doors, the specimen collection is observed directly by another person. This makes it much harder for employees to subvert or adulterate their specimen which enhances the reliability and accuracy of the results.
Where oral fluid testing really shines is identifying recent drug use. Its narrow detection window makes it an effective tool for identifying recent substance use and issues. According to HireRight, MRO verified positive rates for oral fluid testing vastly eclipsed urine drug testing every year for the past five years. Oral fluid testing allows employers to quickly identify these potential issues and take appropriate action, fostering a safe and productive work environment.
Considerations and limitations
While oral fluid testing boasts numerous advantages, it's important to understand its limitations. The primary drawback is oral fluid testing is that it is less suitable for identifying historical substance abuse patterns. If the objective is to identify long-term drug usage, alternative testing methods may be more appropriate. Employers should carefully consider the testing objectives to ensure they align with the window of detection provided by oral fluid testing.
Secondly, the collection site network for oral fluid testing is currently very limited. While this is expected to change once the U.S. Department of Transportation final rule takes effect on June 1st, it may be a few months before there is an appropriately sized network. Currently, urine and hair testing still have the most robust laboratory networks.
Lastly, when using oral fluid to test for marijuana use in particular, time is of the essence. THC has a very small detection window. When someone smokes marijuana, the oral fluid detection window is less than 24 hours even if they are a chronic user. With a urine drug test chronic users may test positive for up to 10 days.
What about the DOT's oral fluid testing rule?
On May 2, 2023, the U.S. Department of Transportation published a final rule to amend their regulated drug testing to allow oral fluid testing. This is the first time that there has been an alternative to urine testing since the federal drug-testing guidelines were published in 1988. The new rule goes into effect on June 1, 2023, but employers will have to wait to implement oral fluid testing in their drug screening programs. For DOT employees to use oral fluid drug testing, the US Department of Health and Human Services (HHS) will need to certify at least two laboratories capable of processing the tests. As of May 31, 2023, HHS has not yet certified any labs, however these certifications are all underway. Industry experts expect that it may take about six months for labs to be up and running.
All DOT specimens must be sent to a certified laboratory for testing. Employers also need to be aware that onsite, point of collection tests are not allowed for DOT drug testing. This applies to any instant saliva, oral fluid, or urine testing devices that are currently available.
Are employers required to use oral fluid for DOT drug testing?
Although oral fluid specimens are now allowed as an alternative to urine drug testing, they are not required to be used in most situations. The new rules do require oral fluid collections for all direct observations of transgender and non-binary employees. Due to this update in the rule, any employers with DOT regulated employers will need to have an oral fluid program in place for transgender and non-binary employees, even if they don't intend to use oral fluid testing for the rest of their workforce.
In other situations, incorporating oral fluid testing is optional and should mitigate worries of not having on-site staff available to perform a gender match for observed specimen collection for urine drug screens. Because all oral fluid tests are observed, the need for same-gender observation is no longer needed.
Finding the right balance
To ensure the success of an oral fluid testing program, finding the right balance is key. In 2021, 61.2 million people (or 21.9 percent of the population) used illicit drugs in the past year. Nearly 1 in 3 adults had either a substance use disorder or a mental illness in the past year. Forty-six percent of young adults 18-25 had either a substance use disorder or a mental illness. Employers should keep in mind the benefits of not only workplace drug testing, but also workplace support for substance misuse and mental health issues.
Carefully consider what events might trigger an oral fluid test at your company, as well as your testing frequency. Once your program is in place, communicate your policies clearly to employees. Educate them about the purpose of the program, and any wellness support available to them. Emphasize the importance of maintaining a drug-free workplace. By striking this balance, you promote a culture of trust, accountability, and mutual respect.
The power of choice
When it comes to drug testing, one size does not fit all. Consider the nature of your industry, the specific goals of your employee screening program, and any regulatory requirements you need to adhere to. The beauty of oral fluid testing is that it offers a convenient, non-invasive, and reliable option in your testing toolkit. Its benefits in terms of ease of use, rapid results, and the ability to detect recent drug use make it an appealing choice for many employers. By incorporating multiple testing methods, including oral fluid testing, you can create a robust and comprehensive approach to ensure a safer workplace.
Need Drug Screens For Your Employees or Candidates?
NMS Health has lab coverage throughout the entire U.S – It's as easy as submitting a request with one click!
We'll schedule your employees or candidates at a convenient location, ensure they attend their appointment, and keep you in the loop every step of the way. Click here to learn more and get started today!
Source Material
[1] https://www.ada.org/en/resources/research/science-and-research-institute/oral-health-topics/salivary-diagnostics
[2] Drug Testing Index | Quest Diagnostics
[3] final-mg-oral-fluid.pdf (samhsa.gov)
[4] Just What We Need: Another Article about the Future of Drug Testing – Current Consulting Group
[5] SAMHSA Announces National Survey on Drug Use and Health (NSDUH) Results Detailing Mental Illness and Substance Use Levels in 2021 | HHS.gov
[6] https://www.transportation.gov/odapc/Notice_Summary_May_2023
[7] https://www.hireright.com/ [Webinar]