The Rise of Oxycodone
Oxycodone is a pain-relieving medication that has become a very popular drug of choice for illicit users. In the medical sense, Oyxcodone is a powerful and amazing pain-relieving drug for those who really need it. It is most commonly prescribed to patients to manage pain after surgery. Oxycodone is a semisynthetic opioid derived from the opium poppy plant. Its chemical structure is like morphine and has very similar therapeutic qualities. OxyContin is a controlled release form of Oxycodone. It is unique in the way that it is a 24-hour time released drug. This time release attribute allows those who are in pain to feel constant relief throughout the day.
The beginning of the opioid epidemic followed the increased prescription of opioids to treat pain in the early 1990s. 30 years later it continues to grow. The American Medical Association issued a brief in November 2021 stating that the nation's drug overdose epidemic has continued to worsen throughout the COVID19 pandemic. Every state has reported a spike or increase in overdose deaths or other related problems. In 2020, more than 93,000 people died from drug overdoses according to data released by the CDC's National Center for Health Statistics. That's a 29.4% increase from the 72,151 deaths projected for 2019.
Types of Oxycodone Produced
The name Oxycodone is generic; there are in fact many different forms of this drug that are prescribed by doctors for pain but are also abused nationwide. Oxycodone is produced in two different ways. It is made into tablets that just contain Oxycodone; the most popular brand names for this form of the drug are Oxycontin and Roxicodone, which is the brand name. It is also made into tablets that contain Oxycodone mixed with analgesics; the most popular brand names for this form are Percocet, Percodan, and Tylox. For people who abuse Oxycodone, they will abuse the form that just contains the Oxycodone. Therefore, the most commonly abused forms of Oxycodone are Oxycontin and Roxicodone.
Illicitly obtained Oxycodone is often laced with another synthetic opioid, Fentanyl. There is now a significant risk that illegally purchased drugs have been intentionally mixed with fentanyl because of its potency and low cost. Oxycodone mixed with Fentanyl is typically produced outside of the United States and smuggled into the country. According to the CDC, overdose deaths involving synthetic opioids, primarily those including manufactured Fentanyl, rose 55.6% percent between January 31, 2020, and January 31, 2021.
Oxycodone V. Hydrocodone
Many people today become very confused with the difference between Oxycodone and Hydrocodone. Although they sound very similar and are spelled similarly, they are in fact very different.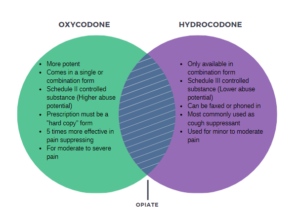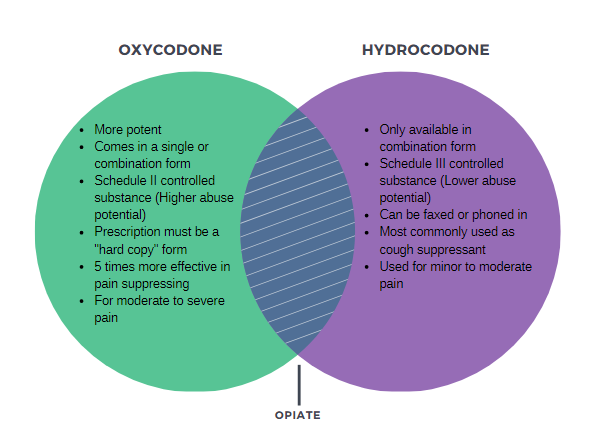 Abuse of Oxycodone
Prescription pain reliever drugs are now the number one cause of drug overdose related deaths in the United States. It should be no surprise to hear then how Oxycodone is abused nationwide. It is known to cause euphoric effects, lessen anxiety, and give the user an overall pleasant experience. This undoubtedly goes hand in hand with the extreme addictive nature of the drug. Oxycontin has become one of the most commonly abused forms of the drug Oxycodone. Users chew or crush the pills in order to snort or intravenously inject directly to their blood stream.
Let's look at some Oxycodone abuse facts…
>13 million Americans abuse Oxycodone according to the U.S. Department of Justice.
Oxycontin has more first-time abusers than marijuana or cocaine.
In 2020, 2.4 percent of 12th grade high school students said they had used OxyContin in the past year.
There is Oxycodone use in all 3,140 counties in the United States.
It has been illicitly abused for the past 30 years and abuse rates continues rise.
The Drug Abuse Warning Network (DAWN) stated that, "Emergency Department visits for nonmedical use of opioid analgesics increased 111% during 2004–2008 (from 144,600 to 305,900 visits) and increased 29% during 2007–2008. The highest numbers of ED visits were recorded for oxycodone, hydrocodone, and methadone."
In 2021, overdose deaths involving opioids rose 38.1 percent.
For the first time in history, more than 100,000 people died of a drug overdose in a 12-month period from April 2020 to April 2021.